The Warwick was a 16th century English Merchantman which sank in Castle Harbour, Bermuda in 1619
On October 20th, 1619, en route to Jamestown Virginia, the merchant ship "Warwick" belonging to Sir Robert Rich, the Earl of Warwick made a scheduled stop in Bermuda. The Warwick's arrival was an important event for the island. On that voyage, the ship was charged with delivering Captain Nathaniel Butler, the new Governor of the nascent colony. Apart from delivering Butler, the Warwick was to carry supplies and settlers to the struggling colony at Jamestown, Virginia, and collect colonial products, mostly tobacco, for return to England.
While the Warwick was in port, a devastating hurricane wreaked havoc on the islands of Bermuda. Amongst the victims of the tempest, was the Warwick which sank at its anchorage in Castle Harbour. (P. Bojakowski)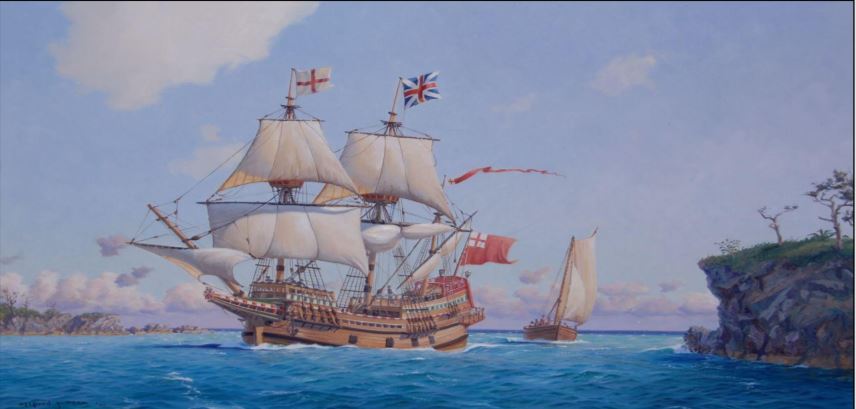 "The Warwick entering Castle Harbour". Painting by Stephen Card circa 1980 ( Private Bermudian collection)
The Warwick is located in the shallow, protected waters of Castle Harbour. A good portion of the
starboard
side of the ship is still preserved from near the
keel
to an upper deck and has never been fully excavated, recorded, or analyzed until now.
The Warwick Project (full report)
Official Links:
Links of interest:
A shipwreck afforded settlers an opportunity to better their lives with salvaged goods. And most Bermuda settlers were involved in wrecking-no matter what their station in life. Even Nathaniel Butler (Governor of Bermuda 1619–1622) got into the act.Butler began his career in Bermuda, ironically, with a shipwreck. In 1619, the Bermuda Company sent him to the island aboard the Warwick. The ship, owned by the Earl of Warwick, went down in Castle Harbour. –
Teddy Tucker
BIOSstation –  Popular YT uploads bios.edu | facebook | twitter |